Disclosure: This post may contain affiliate links. This means that at no cost to you, we may earn a small commission for qualifying purchases.
Updated on March 13, 2023
Cockroaches are a nuisance on their own, but when found in the kitchen, they turn from a nuisance to a sanitation problem.
If you notice a cockroach infestation in your microwave, you should take immediate steps to deal with it. If not done on time, you can face a myriad of problems like damage to the appliance itself or even health problems.
See Also: Can Cockroaches Survive in a Refrigerator?
Why Do Cockroaches Invade Your Microwave?
It's simple. Roaches thrive in warmer temperatures, and the oven provides the perfect, hospitable environment to these pests.
Regular cleaning may help prevent this, but there have been some cases where the insects were found in immaculate houses. Still, regular cleaning can help prevent them from establishing colonies, which is when things become serious.
Why Should You Get Rid Of Cockroaches In Your Microwave ASAP?
The first reason is basic sanitation and hygiene. Cockroaches, no matter how small or large, can easily contaminate your food placed in the microwave. By now, you might have been familiar with the types of diseases that these pests bring. They can even bite!
So the other reason why you should work to remove the infestation immediately is to protect yourself and prevent various health complications and diseases.
In terms of damage to the appliance, roaches can slowly but steadily chew on the plastic or wires, causing permanent damage to the microwave.
Read Also: 9 Different Types of Roaches
How To Get Rid Of Roaches Out Of a Microwave
Now that you understand how important it is to get rid of cockroaches found in your microwave, let's move on to the ways that we can accomplish that. Listed below are different ways in which we can accomplish that.
See Also: How to Get Roaches Out of an Xbox One
#1 – Regular Cleaning
To be honest, regular cleaning of your microwave can help you immensely in this regard. When there is no food source, cockroaches have no incentive to take up occupancy in that area.
By regularly cleaning the microwave, even if you can't eradicate the roaches, you can still prevent them from developing their colony there.
#2 – Deep Cleaning
While cleaning the microwave exterior, door, and main compartment are one thing, cleaning the areas not typically visible (ie: rear, underneath, behind back panel, etc.) is another.
It's not a bad thing to admit that you cannot handle those hard to reach areas. Getting professional help and scheduling a deep cleaning every year is money well spent.
Even if you're an experienced DIYer, you don't want to mess with some parts of a microwave. If you feel you have cockroaches in an internal, hard to reach compartment of the microwave, let the experts handle it.
If you have a very basic countertop model, it may even be cheaper to simply replace the microwave. Just be to dispose of the old microwave properly as it is classified as hazardous waste. Don't simply throw it in the trash.
See Also: How to Keep Roaches Out of Your Dishwasher
#3 – Use a Lemon
Moving onto a real solution, you can just use a lemon to solve the problem. This method is very popular, and you can easily find the tutorial for it on YouTube.
To use lemon to clean your microwave, all you have to do is put some water in a bowl, add the sliced lemon to the water, microwave on high for 3 minutes, and then keep the door closed for a few minutes following.
Then use a rag to wipe down all interior areas of the microwave including the door. This will keep the roaches out now that there's nothing in there for them.
#4 – Use Boric Acid
Boric acid is another deterrent that you can use to achieve the same result. It is, after all, harmless to humans but proven to be very deadly to these insects upon ingestion.
Sprinkle some boric acid behind and under the microwave. You may need to remove a trim piece to get to those areas. Instructions for removal can easily be found online.
Related: Does Borax Kill Roaches?
#5 – Peppermint Oil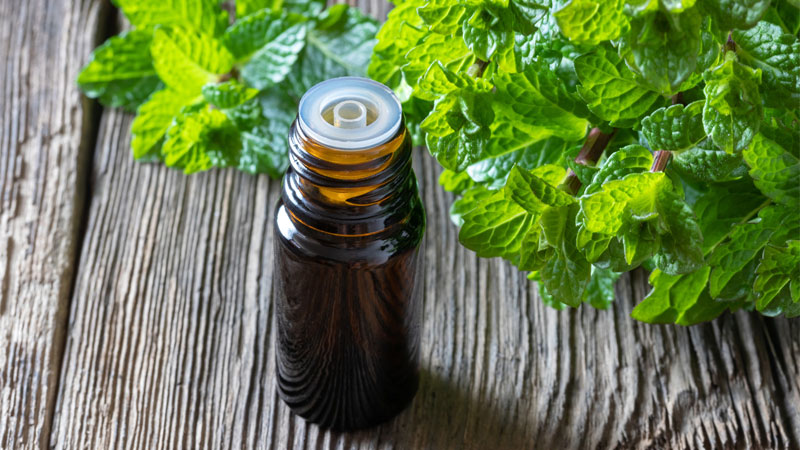 Peppermint oil is another natural disinfectant that can be safely applied on the interior as well as the surroundings of the oven.
#6 – Cockroach Traps
You might be surprised to learn that just like a mousetrap, a cockroach trap also exists. You can quickly get a couple of these non-toxic traps and place them around your microwave to catch and kill the pests.
#7 – Take Preventive Measures
In many cases, prevention is better than cure, so couple the above solutions along with following preventive measures to get the best results.
Regularly clean the microwave and its surroundings.
Don't leave food around on nearby countertops.
Wipe the microwave interior immediately after use if any food splattered during heating.
Don't leave any food crumbs behind.
Place natural repellents like bay leaves or peppermint oil to stop the roaches from approaching the microwave.
Seal every crack in your kitchen.
Dispose of the kitchen trash as soon as possible.
Conclusion
WHO has clearly stated that cockroaches are "unhygienic scavengers in human settlements." But it's not just the health and hygiene problems. More accurately, the fear or phobia of roaches, has been deeply ingrained into the human brain.
Even if we ignore everything else, that phobia will not let us do so. But when you find these pests in places where you keep your food, it becomes more urgent to get rid of them.
So whenever you notice even a little-sized roach, don't hesitate. Look to find the source of them being there and eliminate the pest and his friends as soon as possible.