Disclosure: This post may contain affiliate links. This means that at no cost to you, we may earn a small commission for qualifying purchases.
It's bad enough to discover a cockroach infestation in your kitchen, but what happens when they infest your kitchen appliances?
Few things are scarier than spotting dead roaches in or under the microwave, and the combination of smell and sanitation nightmare might make you want to trash this popular appliance.
But before you throw it out of the window, let's look at how to get roaches out of your microwave and sanitize it after.
See Also: Can Cockroaches Survive in a Refrigerator?
Why Do Cockroaches Invade Your Microwave?
Roaches thrive in warmer temperatures, and kitchen appliances provide the perfect, hospitable environment to these pests.
Your microwave oven also plays host to random crumbs or spills that can also get under the appliance.
Regular cleaning may help prevent an infestation, but roaches can still invade white glove homes.
Once inside, your walls and appliances are the two best hiding places for these critters.
Why Should You Get Rid Of Cockroaches In Your Microwave ASAP?
The obvious answer is that it's important for basic sanitation and hygiene.
Cockroaches, no matter how small or large, can easily contaminate your food.
But there's also another reason you don't want these pests in your appliances.
They're known to chew on both plastic and wiring, causing permanent damage and an increased electrical fire risk.
Read Also: 9 Different Types of Roaches
Won't the Radiation Kill Them?
While most critters like fruit flies won't survive the cooking process, roaches are a little different.
It's possible for cockroaches to survive a nuclear explosion, but they can only handle up to 15 times the radiation of a human.
Also, we're talking gamma radiation vs microwave radiation.
Fruit flies can survive more radiation than a cockroach, but will literally cook as you nuke your food.
However, the bodies of roaches are designed in a way that microwave radiation doesn't hurt them (although they might still slowly get cooked).
How To Get Rid Of Roaches Out Of a Microwave
Of course, you're not here to learn how touch these nasty pests are, you're here for the cockroach elimination tips.
Unfortunately, the best medicine here is cleaning to chase the roaches out.
Here are several ways to clean your microwave oven without resorting to dangerous chemicals.
See Also: How to Get Roaches Out of an Xbox One
#1 – Regular Cleaning
What better place to start your war than a bit of basic prevention?
In many cases, these critters will abandon areas where there are no food sources and a higher risk of discovery.
Of course, you'll still need to deal with the roach infestation, but at least you can cook your food in peace.
#2 – Deep Cleaning
A normal cleaning means wiping down the exterior and cleaning the interior (which is also known as a Faraday cage) and microwave tray.
But every once in a while, you need to do a deep clean.
This means unplugging the unit. removing the casing and carefully wiping down all surfaces.
You can spray canned air to clean the circuits, but avoid getting them too wet or using chemicals that can leave a residue.
Don't forget to clean under the unit as well, especially if that isn't part of your routine.
If you don't feel comfortable working inside an electrical appliance, don't attempt this yourself.
Instead, take it to an appliance repair shop and ask them to perform the deep cleaning for you.
See Also: How to Keep Roaches Out of Your Dishwasher
#3 – Use a Lemon
There's an old saying that when life gives you lemons, you should make lemonade.
Well that's not too far off from one of the best ways to clean out your microwave!
Take half of a fresh lemon or some lemon slices and stick it in a bowl or measuring cup, covering it with water.
Nuke the water on high power for three minutes, then let the microwave sit for around five more minutes before opening the door.
The acidic lemon juice will loosen up all sorts of grease and grime.
Now you can simply wipe down the interior with a cloth or paper towel.
#4 – Use Boric Acid or Diatomaceous Earth
Boric acid (or borax) and diatomaceous earth (DE) are two natural killers we love to use.
Food-grade DE is safe for use around humans and pets (just don't breathe it in)
Meanwhile, boric acid should only be used where smaller hands or paws won't have access.
Sprinkle these behind and under the unit.
DE slashes the roach, killing it from the outside, while boric acid will eat it from the inside out.
#5 – Peppermint Oil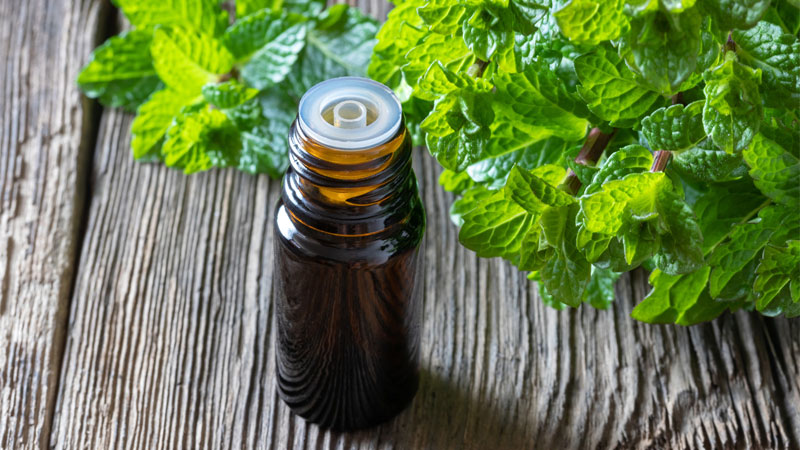 Peppermint oil is another natural disinfectant that can be safely applied on the interior as well as the surroundings of the oven.
While pleasant to humans, peppermint, eucalyptus, and other members of the mint family have a strong smell that repels those pesky roaches.
#6 – Vinegar and Baking Soda
I'm sure all of us made volcanoes using vinegar and baking soda as kids.
These two products are amazing natural cleaning products, even with kitchen appliances.
Make a baking soda paste by adding a little water.
This makes a mild abrasive that can be used for cleaning the inside and outside of your microwave oven.
You can also add some white vinegar to water to make a great glass cleaner for the door.
If you're using the lemon trick, replacing half of the water with white vinegar will make the lemon even more powerful.
Just remember not to let the vinegar and baking soda mix in places it can seep into the circuits.
#7 – Cockroach Traps
You might be surprised to learn that just like a mousetrap, a cockroach trap also exists.
Simply place a few of these non-toxic traps around your microwave to catch and kill the pests.
You can also use glue strips to catch the tiny terrors, makin it easier to dispose of the dead bodies.
#8 – Take Preventive Measures
Prevention is usually cure, so couple the above solutions along with following preventive measures to get the best results.
Regularly clean the microwave and its surroundings.
Don't leave food around on nearby countertops.
Wipe the microwave interior immediately after use if any food splattered during heating.
Don't leave any food crumbs behind.
Place natural repellents like bay leaves or essential oils around the microwave to deter pests.
Seal every crack in your kitchen to eliminate entry points.
Dispose of the kitchen trash as soon as possible.