Coyotes are considered as one of the most clever beasts of North America. In fact, many Native American nations have stories about the Trickster Coyote who was sometimes too crafty for his own good.
They are slightly smaller than their close relatives such as the gray wolf and red wolf.
Now, if you want to know whether there are coyotes in your area, then the best thing to do is keep a lookout for the coyote poop (aka: scat or droppings) anywhere nearby. Coyote scat is a clear indication that coyote is present in this area.
But, when it comes to finding coyote poop, the biggest problem identifying the droppings. Keep reading to understand how to identify coyote scat and learn some important facts about their feces in the process.
See Also: How to Get Rid of Coyotes From Your Property
What Does Coyote Poop Look Like?
If you look at the coyote droppings, you'll see that their droppings look like a twisted rope with several segments. They're large and tubular in shape.
Generally, coyote droppings are between 3/4 to 1-1/2 inches in diameter, and when it comes to length, they are 3 to 5 inches long.
Male coyote poop is larger than female coyote poop, and some male droppings can be up to a length 6 to 12 inches, depending upon the size of the coyote.
One of the essential characteristics that can be used to identify their scat from others is that their poop has long, curly tapering ends.
Coyote feces may contain some features, such as fur, casings, and bones of small animals like shrews, rabbits, or other rodents.
If you look closely, you may even find some seeds, grass, nuts, fruits, and berries that they usually eat to remove the intestinal worms present in their digestive system.
Related: What Does Possum Scat Look Like?
Pictures of Coyote Scat
Here are a few coyote scat images to help make identification easier.
After all, a picture can be worth a thousand words.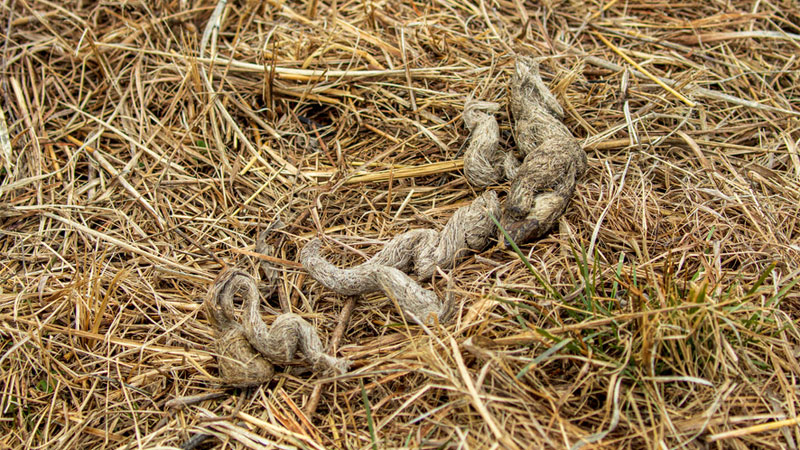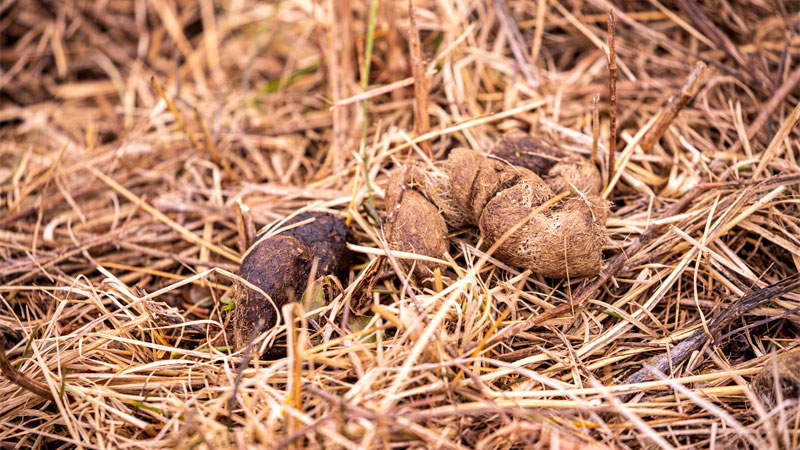 Coyote Poop Identification
If you want to identify whether the poop that you found is of a coyote or not, then you have to take an up close and personal look at the feces.
Their scat is between .75 and 1.5 inches in diameter and 3 to 5 inches long. Of course, we can't be sure about that by just looking at the size.
Coyote poop color normally ranges from black or dark brown to to gray.
It can contain a mixture of plant matter and some animal matter like fur, casing, and bones of the various critters that they eat.
Also, if the scat has long, curly tapering ends, then there is a good chance that this is coyote feces.
See Also: What Do Fox Droppings Look Like?
Coyote Poop vs Dog Poop
If you live near coyote territory, especially in a suburban setting, it can be easy to confuse a stray dog with a suburban coyote. However, there are ways to tell these two problematic creatures apart by – you guessed it, their poop.
Because both are canines, their poop has a similar tubular shape. But while dog poop is softer and more sausage like, coyote scat is firm and looks more like a knotted rope.
Second, dog poop tends to be smoother because of their processed pet food, and even a stray will have less debris. Meanwhile, coyote poop is full of tiny bones and fur in winter months and berries or seeds in the summer months.
Finally, dog poop tends to have somewhat rounded ends while coyote scat has long, tapered ends that usually curls.
Coyote Poop in Your Yard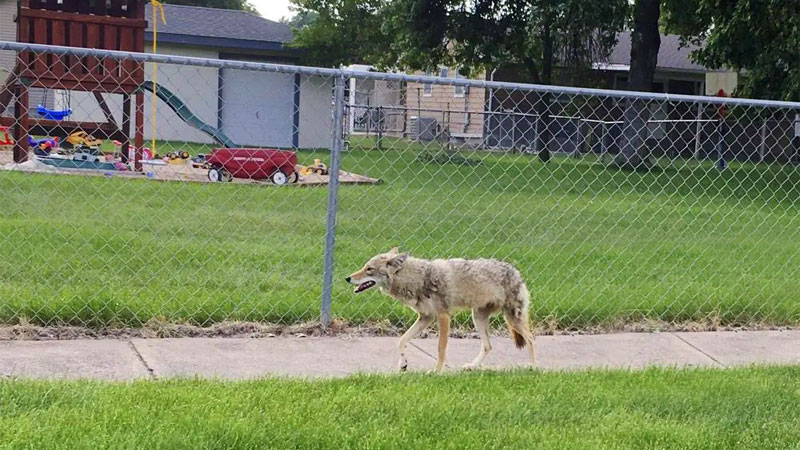 If you find coyote poop in your yard, what does that mean?
For starters, it's proof a coyote was in your yard. Even if it's not present right now, it certainly was recently.
It also means that something was in your yard to attract the coyote. Look around for signs of deer poop, coyote paw prints, or overturned trash cans. Urban coyotes are opportunistic feeders and will scavenge what they can.
Once you know a coyote's visited, you should take some precautions. Remember, coyotes are known to attack smaller animals like chickens, dogs, cats, rabbits, and others.
Is Coyote Scat Dangerous?
As will all feces, coyote poop is a health risk. They contain dangerous microbes and often also have parasites like fluke worms.
Try to keep a safe distance from the poop until you can safely dispose of it wearing disposable gloves and other protection.
Dealing with Coyote and Their Poop Through Pest Control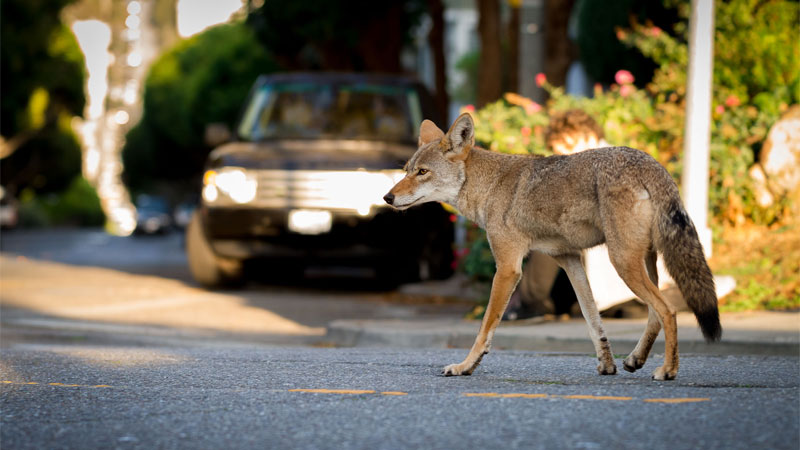 The fact that you are reading this article means that you've spotted certain signs of coyotes (including their poop) on your property.
If it's an infrequent occurrence, then you can likely handle the situation on your own. However, it is always better to hire a professional. They can deal with the coyote safely and humanely in case the sightings are a little too frequent.
Final Words
If you pay attention to the shape and contents of poop, you can distinguish coyote scat from the scat of other animals.
When it's your backyard, it's time to take proper preventive measures to ensure they don't come back.
Coyotes are known to attack smaller animals and pets. Therefore it's imperative to be careful and take measures to make sure they don't become a frequent visitor.
Have you experienced coyotes on your property at some point? Let us know what happened. We love hearing the stories of our readers as much as we love sharing our own stories.