Disclosure: This post may contain affiliate links. This means that at no cost to you, we may earn a small commission for qualifying purchases.
Of all the pests out there, bed bugs are one of the most feared and frustrating to deal with. These tiny critters are most often associated with the bedroom, but are capable of infesting your entire home.
Depending on the level of infestation, you might be brave enough to tackle these pests on your own using bug bombs or home remedies (such as repellents, garlic, or rubbing alcohol).
But while the DIY route generally works when you've been recently exposed or are dealing with a light bed bug infestation, moderate or severe infestations mean hiring a professional bed bug exterminator isn't an option – it's a necessity.
Related: How Much Does an Exterminator Cost? (For 20+ Pests)
Warning Signs of Bed Bug Infestations
Before we get down and dirty, it's important to remember there are a lot of critters that can be mistaken for bed bugs and may even leave similar bites. So let's take a moment to review a few key symptoms of a bed bug infestation.
#1 – Bed Bug Bites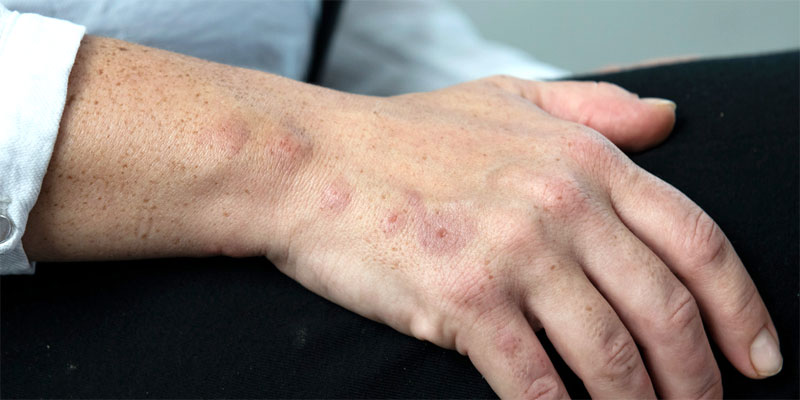 The distinctive bite tracks may be as itchy as mosquito bites to some, but it's a myth that everyone has the same symptoms (or any symptoms at all, in some cases). Because bed bugs can't grip surfaces easily, the tracks are caused by them sliding when you move.
#2 – Bloody Sheets
Tiny brown dots on your bed sheets or pillow case may be dried blood. To verify, place a damp paper towel on the suspected blood stains. If you see an expanding red mark on the paper towel, you have bed bugs.
#3 – Visual Confirmation
While they absolutely abhor light, these little vampires may still sometimes be caught in the open. They're flat like a mite, about as big as the head of a pin, and are generally whitish unless they've had a blood meal. You may also notice transparent shells if one's molted recently.
Before Hiring a Professional Exterminator
Once you've determined you have an infestation, it's time to call someone in to eliminate these unwanted household guests. Here's a quick guide on what to ask before hiring and what to expect during the initial inspection.
Questions to Ask
#1 – How long has your company been in business?
An extermination company that's been around for a while tends to be a better option by default. Not only do they have more experience with pest elimination, but they will likely have better equipment as a result of running a successful business.
That's not to say a newer company isn't competent, but there's higher risk, unless you also ask…
#2 – Do you have referrals or testimonials?
Even a new company should have feedback from their existing clients. In many cases, an exterminator company is founded by someone who's previously worked for another company and may have personal recommendations from former clients.
Never trust a company that isn't willing to let you check their reputation, and trust a company even more if they're willing to show you the bad as well as the good reviews.
#3 – Are you licensed, bonded, and insured?
It should go without saying that the pest control business is highly regulated due to the use of dangerous chemicals. However, the exact requirements to obtain and maintain a license to practice will vary from one state to another. More importantly, having a license doesn't equal having a license to practice in YOUR state, so you will want to check their certifications.
In addition, accidents can – and will – happen, especially if you end up needing a complicated treatment method such as tenting. By ensuring the exterminator company is bonded and insured, you can rest easy knowing they'll be liable for (and able to cover) any damages caused during the course of their visit.
#4 – Do you offer a service guarantee?
Extermination is a complicated business, and stubborn pests can often return. Even worse, some types of pest (including bed bugs) can build up a resistance to chemical treatments (i.e. the infamous superbugs) and bed bugs are notorious for becoming tolerant of insecticides.
A good pest control service will offer some form of guarantee, ensuring they'll return if the pest returns without any hidden additional fees.
#5 – Do you offer your quotes in writing?
There's an old adage that says you should always get it in writing, and this is doubly true of hiring something as expensive as pest control specialists. Don't settle for verbal quotes, and don't hire if they aren't willing to provide all quotes in writing with any potential hidden fees clearly noted.
Remember, it's not uncommon for a company to lowball their estimates and sneak in hidden fees later, so be sure they're going to stand by their quotes.
#6 – How do you determine the treatment method?
The first of several important questions regarding methodology, this simple question can help ensure you aren't stuck with the most expensive type of treatment for a small to moderate infestation. Their answer should cover critical bases, such as:
Effectiveness of a method on different stages of life
Local and state regulations
Past history of infestations (i.e. how stubborn pests are)
Size of infestation
#7 – What is your treatment plan?
Companies should have a battle plan before ever entering the war zone. This question will expand on the last question and hopefully answer the next three questions as well.
Knowing you're dealing with pest control professionals and not a Mickey Mouse operation can often be determined by the response to this question alone.
#8 – What chemicals do you use?
Hopefully the previous question will have already answered this, but you'll need to ask if the company didn't bring it up.
If the company isn't willing or able to tell you which pesticides they use and any potential hazards associated with those pesticides, it's a major red flag.
#9 – Are your treatments safe for humans and pets? Will we have to stay elsewhere?
These two questions are interconnected and should also have been answered in conjunction with the treatment plan. Pets (especially exotics) can be seriously harmed or even killed if exposed to many common pesticides. Be sure to disclose any pets and their species if the exterminator didn't already ask.
They should be able to tell you which pesticides will be safe and explain why. If not, they should let you know if you need a pet-sitter or to stay elsewhere during treatment, how long that stay will be, and if there are any steps you need to take before introducing a pet or child back into the home post-treatment.
#10 – Do you eliminate pests AND keep them from returning?
This final two-pronged question is also one of the most important, as it's verifying all the claims they've made thus far as well as any guarantees they've already made.
Simply put, if the company can't stand by the quality of their services AND/OR aren't willing to include any follow-ups as part of a service guarantee, it's a good indicator that they're a scam and may intentionally leave some pests so they can charge you all over again when the pests come back.
By asking this at the very end, you can often catch any earlier deceptions.
The Inspection
Pest control companies will perform an initial inspection, usually at a fixed rate. Inspections are generally quite thorough, and a professional bed bug extermination company won't simply check where you've noticed clear signs of infestation.
Instead, they'll handle even a light infestation as if it were a severe bed bug infestation and go through your entire home to find them.
The reason for this is simple: Bed bugs will hang out anywhere people tend to rest, so they can nip out of hiding, get some human blood, and escape before the target shifts or leaves.
In fact, a huge part of the reason these are such difficult pests is simply because the average homeowner doesn't think to treat outside of the known infestation area.
Some places the pest control team will search include:
Bed frames and the seams of mattresses and furniture
Cracks in the floors and walls
Household items that have crevasses or openings
Locations where rust-colored spots are present
Picture frames
Places with clutter, such as laundry baskets or closets
Average Costs of Bed Bug Extermination
Disclaimer:
While we try to be as accurate as possible in the cost estimates covered here, the current economic recession adds a new variable to cost calculation that's impossible to predict. Please refer to all prices as merely guidelines and subject to change as your local inflation rates increase or decrease.
There are several variables that go into the cost of an extermination, but the average cost range tends to be anywhere from $300 to $6,000 to get rid of the entire infestation. Most cases will fall into a median cost range of $917 to $1,917.
Common Bed Bug Extermination Cost Variables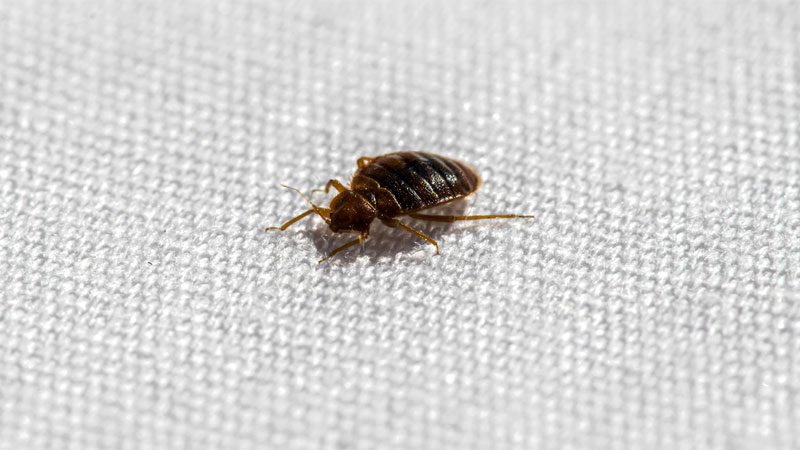 Infestation Size
A light bed bug infestation in only one room will usually run $300 to $475, but a heavy infestation may lead to a whole-house treatment that can run as much as $3,750 to $6,000!
Location
Hiring a bed bug extermination service will be more expensive in urban settings than rural because of how widespread infestations tend to be due to the human population density.
Method Used
Different treatment methods will carry sometimes very different costs due to time, labor, and equipment needed. We'll go into greater detail on this variable momentarily.
Shelter
A "hidden cost" of some methods which might require you and/or your pets to temporarily shelter elsewhere. Sheltering costs are completely independent of any quotes you'll be presented with by the exterminator service.
Average Costs By Area
One room: $300–$475
Two rooms: $750–$900
Three rooms: $1,050–$1,300
Four rooms: $1,500–$1,700
Whole-home treatment: $3,750–$6,000+
Average Rates By Treatment Method
There are several different methods used in exterminating bed bugs, but the following four are the most common. All prices are by the square foot.
Chemical Treatment
Various chemicals or pesticides are sprayed throughout the area of infestation.
Cost: $2-4.50 (~$100 to $500/room)
Pros:
Cons:
Bed bugs often resistant
Best used in conjunction with other methods
Often toxic
Won't kill bed bug eggs
Freeze Treatment
Liquid carbon dioxide is sprayed into the treatment area where it will kill all stages of the bed bug life. cycle.
Cost: $3-6 (~$500 to $700/room)
Pros:
Chemical free
No water damage
Safe on heat-sensitive surfaces
Cons:
Doesn't penetrate surfaces as well
Sometimes blows bed bugs away
Won't prevent future infestation
Fumigation/Tenting
The home is sealed off and chemicals are pumped throughout, killing all stages of life.
Cost: $4-8 (usually $4,500 or more, depending on house size)
Pros:
Indiscriminate extermination of all present pests
Whole-house treatment
Cons:
Additional personal costs
Highly toxic
Won't prevent future infestations
Heat Treatment/Tenting
Hot air over 120 degrees is pumped into the infested area, killing all stages of life.
Cost: $1-3 ($2,000 to $4,000 if tented)
Pros:
Cons:
May cause heat damage
Won't prevent future infestation
Steam Treatment
A steamer pumps out water vapor at a blistering 200 degrees, killing all stages of life.
Cost: $2-7.50 (~$250 to $1,000/room)
Pros:
Chemical free
Deep penetrating
May clean some furniture as a side effect
Cons:
Potential water damage
Won't prevent future infestation
Aftercare and Follow-up Visits
There's a good chance an experienced exterminator will recommend some common bed bug prevention methods, such as using a dust mite-proof mattress encasement. However, even if you choose to practice prevention techniques, a professional extermination company may schedule a follow-up visit to make sure there were no survivors.
In most cases, this is because not every stage of life has the same degree of vulnerability, and bed bug eggs are especially notorious for being resistant to insecticidal treatments.
If your contract includes a follow-up, it's usually to help prevent future infestations and mop up any survivors of a chemical treatment. Such visits can be especially important in urban areas where public transportation increases your risk of a potential infestation in future.